This article helps you understand and use Co-allocation & Tag Mapping feature to setup and monitor your spending by tagging.
Managing cloud costs can be challenging; especially if your organization needs to break down costs for internal chargeback. You might have separate business units, or you might need to facilitate external billing for distinct customer solutions. This becomes even more difficult when you employ shared services to reduce costs, since there may not be a clear way to break those shared services down by business unit or customer. This is the reason why we provide this feature to help the user to collect the cost by tagging.
Cost allocation
Cost allocation is how you break down and distribute costs throughout the organization. Cost allocation is usually performed by identifying the shared services being used, pinpointing which business units or projects are utilizing those services, and determining how costs should be split across each.
By default, Cloud Expense supports to display up to 04 tagging value as Owner, Environment, Application, Cost Center. Accordingly, the system will automatically get and summarize total cost of all resources with corresponding tag key.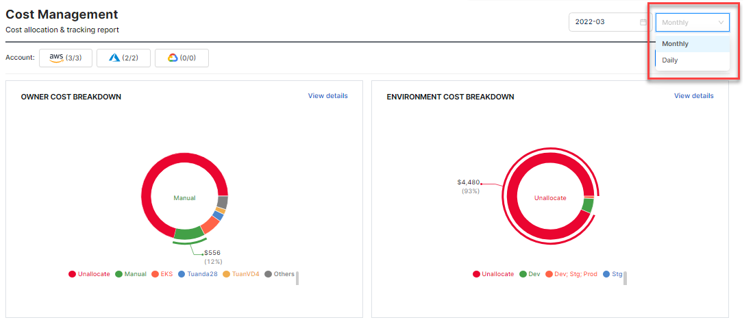 Tag Mapping
You can customize to change tag key or tag value matching with your tagging strategy.

Note: Sync tag is function which allows you to correct the cost allocation in the past when you change tag key. It is likely to cause some additional charge when querying the Cost Explorer API from Cloud vendor.