CloudSuite – a product suite developed by the Cloud CoE team with technology units in FSOFT (CBI, STU, FHN, FDN, DPS) will be a powerful support tool to help clients quickly transition from traditional system to Cloud with high efficiency and minimized risk.
From the experience of working with many clients around the world, Mr. Le Quang Huy, representative of akaClaud, found that most companies choose and implement a sequential approach method. First, they started out conservatively by spending a lot of time developing and preparing plans. Then, businesses will move towards implementing large projects, to save costs, effort, and utilize existing resources.
According to Mr. Huy, although done carefully, many challenges can still happen. Even a small barrier can delay the whole process. This is one of the main reasons why many Cloud programs crash or get stuck in the middle.
"In the context of a pandemic outbreak, we have also adjusted ourselves to quickly adapt to different clients' problems, thereby providing more flexible processes to help customers speed up adaptation. With the flexible application methodology of FPT Digital Kaizen combined with akaClaud, we believe that we will effectively support clients and project teams in their journey to move to Cloud.", Mr. Huy added.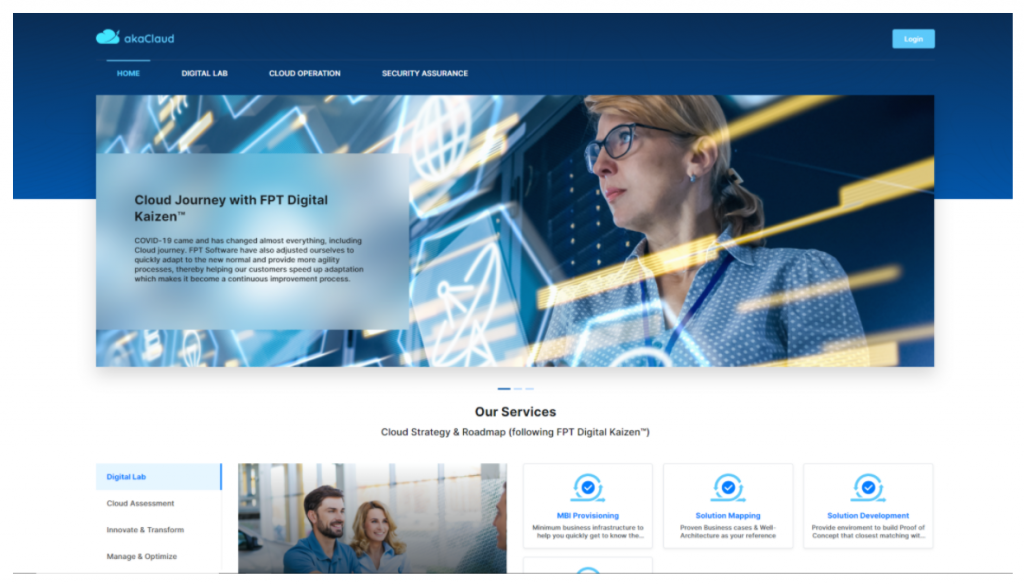 Accordingly, Cucumber would like to share two outstanding reference solutions from akaClaud's team, after drawing experience from the project implementation process and converting it into the experiences in Cloud Digital Lab of this tool:
1. Transforming all data center infrastructure for a large customer in Europe to AWS.
In this case, the project team had to move a very large 35 TB of data from Oracle and SAP databases to AWS. At the same time, it is necessary to integrate 250 applications and physical systems into the Cloud.
After the transition, the project team helped the client save 25% of the costs compared to traditional infrastructure while helping the system to meet many previously unsupported security standards, improving application performance in response to rapidly evolving service needs.
2. Infrastructure transformation for a multi-national client based in Europe to Azure.
In this case, the client needed to split the company into 2 subsidiaries and needed to convert to Azure Cloud to accommodate the deployment of systems to ensure business expansion. After applying the Agile approach, the project team helped convert 50 applications of all kinds, ensure business operations, and save 15% of the costs compared to traditional infrastructure.
In addition to the successes in handling related issues for clients on both AWS and Azure platforms, in the near future, the project team will gather more experience in GCP projects to turn into reference solutions, which will help the project implementation team and clients work on this platform.
Currently, akaClaud has released version 1.1 with new upgrades with the addition of from 25 to 49 Reference Solutions and Training labs, and a range of features such as Cloud Operation, Security Assurance supporting Multi-Cloud environment.
akaClaud 1.2 is expected to be released later this year with added useful features such as Cost Management & Optimization, Minimum Business Infrastructure Provisioning, Container Management, etc.